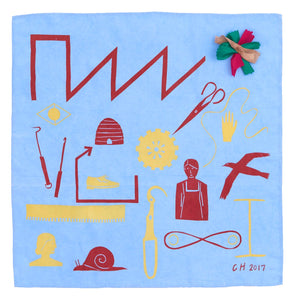 Limited edition screen-print created for my solo exhibition Kissing the Shuttle at Cecil Sharp House, London. 
Hand dyed and screen-printed silk with silk ribbon rosette, each with unique colourway in an edition of 20. 
The motifs are drawn from a number of the exhibited pieces, representing a kind of 'Best of…' The textile banners for Kissing the Shuttle explore qualities of resistance, folk practices, forms of communication and community identity and camaraderie that were intrinsically tied to work and the workplace, especially within the historic weaving communities of the North of England and Northern Ireland.
45x45cm
Half of the edition will also be available via Cecil Sharp House's shop.