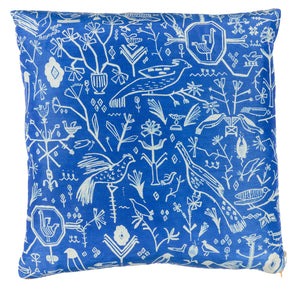 This cushion features birds and floral imagery inspired by Greek folk embroidery and textiles. 

Hand dyed blue silk and hand screen printed imagery in white using a discharge print process. There is some variation in how white the imagery comes out in each cushion due to variables in the process, making no two quite the same. 

The back is a plain mid grey silk satin with a yellow zip across the bottom.

45 x 45cm with duck feather pad included.

Hand wash cold.

Please ensure you select the correct shipping at checkout.